Recently, the first week of film production was wrapped on "Black Eros," the third independent feature film from Running Wild Films in association with 5J Media. "Black Eros" is a three character story told in monologue form about an old man, a young man and a young woman caught up in an erotic triangle.
Film Production "Behind the Scenes"
The week of filming took place at the very nice Hyatt House in Old Town Scottsdale. We're grateful to a close friend of mine, Holly Foreman, for providing the location assistance, as we were able to get enough rooms so I could stay on site during the week. Juggling work and filming schedules was less stressful since the hotel has amenities like a 24-hour gym and hot breakfast. I will admit, after a week on location I got used to the luxuries – and the commute – which made it difficult to leave.
Most of what we filmed was interview-style setups around various parts of the hotel room. The actor, Douglas Turner Ward, delivered an amazingly solid performance, and just talking to him off set was enlightening. He shared some good life lessons, and I learned a lot about theater and film development over the years. I was an immediate fan of Mr. Ward's, and I hope the rest of the actors in the feature will measure up to his standard.
Film Production "The Setup"
Since the whole film is shot in a one on one interview style, set up was simple and production went smoothly. We used sunlight and a single production light for most shots, and a two camera setup with a Canon T3i and a Canon T2i. For the audio, my setup consisted of a Sennheiser 416 shotgun mic held above on a C-Stand. I also used my Sennheiser ME-2 Lav w/ Wireless kit just to cut down on some of the echo in the room. One thing I decided on this set is that it is time to upgrade my lavs. Although they have been great to me, I need something smaller and of better quality. The ME-2s are still a little noisy for me in regards to film, which is what I get for buying ENG lavs.
Compared to other films, this shoot was very relaxed and proficiently run. There weren't multiple locations to coordinate or outside weather and traffic to deal with. Plus, since we were working one on one, we didn't have to worry about multiple actors in the same shot. I was able to get the optimal setup for the best production audio and work in a relaxed atmosphere. In fact, things ran so well that we wrapped early almost every night and actually wrapped with the actor a day early.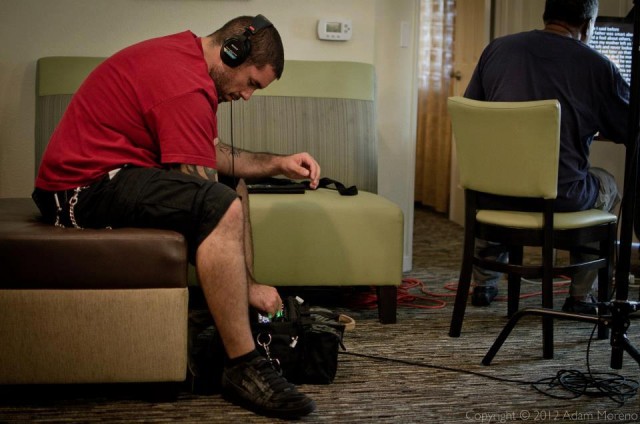 Film Production "Audio Issues"
The only issue we ran into audio-wise was that we couldn't figure out how to turn off the AC in the hotel room for the first couple days. (I know we sound like a bunch of idiots!) Luckily I stumbled on how to do it by the third day, realizing there is a 3 minute delay before the AC actually cycles off. For the most part I recorded everything I will need when it comes time to start post audio, but I am hoping I don't run into too many issues with the fact that part of the footage has the AC running and part doesn't. Luckily I have two mics to play with on isolated audio tracks.
Starting in November, we will begin working with the other two actors. The locations probably won't be as easy to set up, but we've got a strong start for our third feature-length film, which we hope to release sometime around mid 2013. For more information on Douglas Turner Ward's history in film, check out http://douglasturnerward.com/. Stay tuned for more updates as we continue the production on "Black Eros."
Blog Edited by Holly Foreman